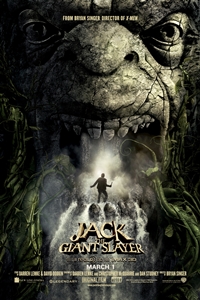 Opening Date:
March 1, 2013
Cast:
Nicholas Hoult, Eleanor Tomlinson, Ewan McGregor, Stanley Tucci, Eddie Marsan, Ewen Bremner, Ian McShane, Christopher Fairbank, Simon Lowe, Mingus Johnston
Genre:
SciFi/Fantasy, Action/Adventure
MPAA Rating:
PG13 for intense scenes of fantasy action violence, some frightening images and brief language
Synopsis:
"Jack the Giant Slayer" tells the story of an ancient war that is reignited when a young farmhand unwittingly opens a gateway between our world and a fearsome race of giants. Unleashed on the Earth for the first time in centuries, the giants strive to reclaim the land they once lost, forcing the young man, Jack, into the battle of his life to stop them. Fighting for a kingdom, its people, and the love of a brave princess, he comes face to face with the unstoppable warriors he thought only existed in legend-and gets the chance to become a legend himself.
Jack the Giant Slayer 3D (PG13)
Click bold theatre name for showtimes and tickets.
Showtimes available three days prior to opening.