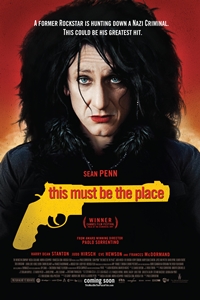 Opening Date:
November 2, 2012
Cast:
Sean Penn, Eve Hewson, Frances McDormand, Judd Hirsch, Heinz Lieven, Kerry Condon, Olwen Fouere, Simon Delaney, Joyce Van Patten, Liron Levo
Director:
Paolo Sorrentino
Genre:
Drama, Suspense/Thriller
MPAA Rating:
R for language, some sexual content and brief disturbing images.
Synopsis:
Cheyenne, the bizarre former lead singer of an iconic goth rock band. Though fabulously rich and living in a palatial estate with his wife, Jane. Cheyenne is phlegmatic and disconnected. Emotionally distant from his disapproving father since adolescence and facing a midlife crisis, he undertakes to make things right by, of all things, hunting a Nazi who tormented his father in a concentration camp. The resulting detective work and road trip lead the emotionally unmoored Cheyenne to self-realizations, human connections, and a showdown perhaps more surprising than any other in movie lore.
This Must Be the Place (R)
Click bold theatre name for showtimes and tickets.
Showtimes available three days prior to opening.