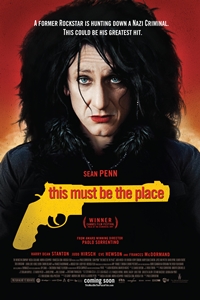 Release Date:
November 2, 2012
Cast:
Sean Penn, Eve Hewson, Frances McDormand, Judd Hirsch, Heinz Lieven
Director:
Paolo Sorrentino
Genre:
Drama, Suspense/Thriller
MPAA Rating:
R for language, some sexual content and brief disturbing images.
Synopsis:
Cheyenne, the bizarre former lead singer of an iconic goth rock band. Though fabulously rich and living in a palatial estate with his wife, Jane. Cheyenne is phlegmatic and disconnected. Emotionally distant from his disapproving father since adolescence and facing a midlife crisis, he undertakes to make things right by, of all things, hunting a Nazi who tormented his father in a concentration camp. The resulting detective work and road trip lead the emotionally unmoored Cheyenne to self-realizations, human connections, and a showdown perhaps more surprising than any other in movie lore.
This Must Be the Place (R)
PLAYING MARCH 11 AT:
Show times are available on this date for theatres in bold type. Click theatre name for tickets.