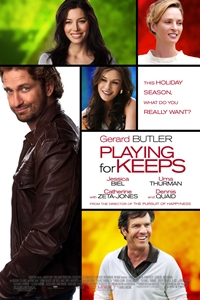 Opening Date:
December 7, 2012
Cast:
Gerard Butler, Jessica Biel, Uma Thurman, Judy Greer, Catherine Zeta-Jones, Dennis Quaid, James Tupper, Joe Chrest, Sean O'Bryan, Jon Mack
Director:
Gabriele Muccino
MPAA Rating:
PG13 for some sexual situations, language and a brief intense image
Synopsis:
"Playing For Keeps" is a romantic comedy about a charming, down-on-his luck former soccer star who returns home to put his life back together. Looking for a way to rebuild his relationship with his son, he gets roped into coaching the boy's soccer team. But his attempts to finally become an "adult" are met with hilarious challenges from the attractive "soccer moms" who pursue him at every turn
Playing for Keeps (PG13)
Click bold theatre name for showtimes and tickets.
Showtimes available three days prior to opening.