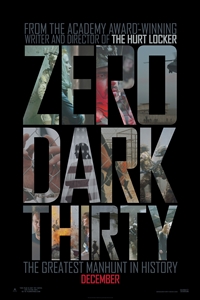 Release Date:
January 11, 2013
Cast:
Jessica Chastain, Jason Clarke, Joel Edgerton, Jennifer Ehle, Mark Strong
Director:
Kathryn Bigelow
Genre:
Suspense/Thriller, Action/Adventure, Drama
MPAA Rating:
R for strong violence including brutal disturbing images, and for language
Synopsis:
For a decade, an elite team of intelligence and military operatives, working in secret across the globe, devoted themselves to a single goal: to find and eliminate Osama bin Laden. This is the story of history's greatest manhunt for the world's most dangerous man.
Zero Dark Thirty (R)
PLAYING MARCH 12 AT:
Show times are available on this date for theatres in bold type. Click theatre name for tickets.