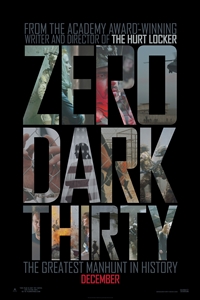 Opening Date:
January 11, 2013
Cast:
Jessica Chastain, Jason Clarke, Joel Edgerton, Jennifer Ehle, Mark Strong, Kyle Chandler, Edgar Ramirez
Director:
Kathryn Bigelow
Genre:
Suspense/Thriller, Action/Adventure, Drama
MPAA Rating:
R for strong violence including brutal disturbing images, and for language
Synopsis:
For a decade, an elite team of intelligence and military operatives, working in secret across the globe, devoted themselves to a single goal: to find and eliminate Osama bin Laden. This is the story of history's greatest manhunt for the world's most dangerous man.
Zero Dark Thirty (R)
Click bold theatre name for showtimes and tickets.
Showtimes available three days prior to opening.