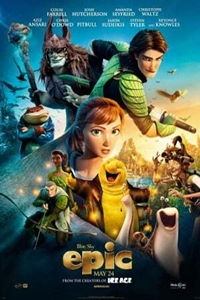 Release Date:
May 24, 2013
Cast:
Beyonce Knowles, Colin Farrell, Josh Hutcherson, Amanda Seyfried, Aziz Ansari
Genre:
Animation, Family, Action/Adventure
MPAA Rating:
PG for mild action, some scary images and brief rude language
Synopsis:
"Epic" tells the story of an ongoing battle deep in the forest between the forces of good and the forces of evil. When a teen age girl finds herself magically transported into this secret universe, she must band together with a rag-tag team of fun and whimsical characters in order to save their world... and ours.
Epic in 3D (PG)
PLAYING MARCH 11 AT:
Show times are available on this date for theatres in bold type. Click theatre name for tickets.