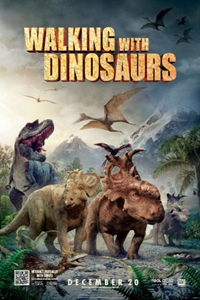 Opening Date:
December 20, 2013
Cast:
Justin Long, John Leguizamo
Director:
Barry Cook, Neil Nightingale
MPAA Rating:
PG for creature action and peril, and mild rude humor
Synopsis:
For the first time in movie history, audiences will truly see and feel what it was like when dinosaurs ruled the Earth. WALKING WITH DINOSAURS is the ultimate immersive, big screen adventure for families. Meet dinosaurs more real than you've ever seen as you take off on a thrilling prehistoric adventure, where Patchi, an underdog dinosaur, triumphs against all odds to become a hero for the ages.
Walking with Dinosaurs 3D (PG)
Click bold theatre name for showtimes and tickets.
Showtimes available three days prior to opening.