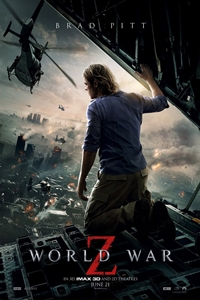 Release Date:
June 21, 2013
Cast:
Brad Pitt, James Badge Dale, Eric West, Mireille Enos, Matthew Fox
MPAA Rating:
PG13 for intense frightening zombie sequences, violence and disturbing images
Synopsis:
The story revolves around United Nations employee Gerry Lane, who traverses the world in a race against time to stop a pandemic that is toppling armies and governments and threatening to decimate humanity itself.
World War Z (PG13)
PLAYING MARCH 12 AT:
Show times are available on this date for theatres in bold type. Click theatre name for tickets.