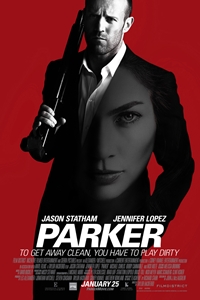 Opening Date:
January 25, 2013
Cast:
Jason Statham, Jennifer Lopez, Nick Nolte, Michael Chiklis, Clifton Collins Jr., Wendell Pierce, Patti LuPone, Emma Booth, Billy Slaughter, Kirk Baltz
Director:
Taylor Hackford
MPAA Rating:
R for strong violence, language throughout and brief sexual content/nudity
Synopsis:
Parker, is a hardened professional criminal who will do whatever it takes to get what he wants, living by his own code of ethics - don't steal from people who can't afford it and don't hurt people who don't deserve it. But when he's double-crossed by his crew and left for dead, it's time for payback.

Assuming a disguise and forming an unlikely alliance with a sexy local Palm Beach resident, he tracks down the gang, aiming to take everyone out and hijack the score of their latest heist.

Parker (R)
Click bold theatre name for showtimes and tickets.
Showtimes available three days prior to opening.