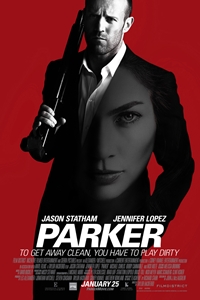 Release Date:
January 25, 2013
Cast:
Jason Statham, Jennifer Lopez, Nick Nolte, Michael Chiklis, Clifton Collins Jr.
Director:
Taylor Hackford
MPAA Rating:
R for strong violence, language throughout and brief sexual content/nudity
Synopsis:
Parker, is a hardened professional criminal who will do whatever it takes to get what he wants, living by his own code of ethics - don't steal from people who can't afford it and don't hurt people who don't deserve it. But when he's double-crossed by his crew and left for dead, it's time for payback.

Assuming a disguise and forming an unlikely alliance with a sexy local Palm Beach resident, he tracks down the gang, aiming to take everyone out and hijack the score of their latest heist.

Parker (R)
PLAYING MARCH 10 AT:
Show times are available on this date for theatres in bold type. Click theatre name for tickets.