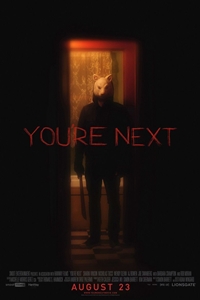 Opening Date:
August 23, 2013
Cast:
Sharni Vinson, Joe Swanberg, A.J. Bowen, Nicholas Tucci, Barbara Crampton, Wendy Glenn, Rob Moran, Maragaret Laney, Amy Seimetz, Ti West
Genre:
Horror, Suspense/Thriller
MPAA Rating:
R for strong bloody violence, language and some sexuality/nudity
Synopsis:
A chilling warning scrawled in blood on a neighbor's wall starts an evening of bloody mayhem for the Davison family.
A lively reunion is abruptly brought to an end when a gang of mysterious killers, disguised in animal masks, wage an all-out assault on the Davison's secluded home. Using a series of sophisticated traps, axes, crossbows and machetes, the family are slaughtered one by one until nowhere is safe. But neither the attackers, nor their victims, have counted on Erin; an innocent girlfriend who has the killer instinct to fight back...

You're Next (R)
Click bold theatre name for showtimes and tickets.
Showtimes available three days prior to opening.