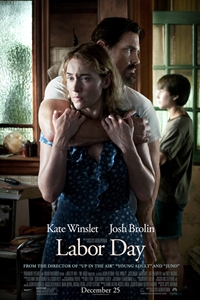 Release Date:
December 27, 2013
Cast:
Kate Winslet, Josh Brolin, Gattlin Griffith, Tom Lipinski, Clark Gregg
MPAA Rating:
PG13 for thematic material, brief violence and sexuality
Synopsis:
A story of love, passion, and betrayal as seen through the eyes of a teenage boy and the man he later becomes. Henry looks back on his fateful 13th year, when he lived with his reclusive divorced mother. At the start of Labor Day weekend, while on a rare excursion to town, Henry and his mother encounter an injured man who asks for refuge in their home. Over the course of the next four days, they're taken 'hostage' by a man who ultimately captures them, body and soul.
Labor Day (PG13)
PLAYING MARCH 10 AT:
Show times are available on this date for theatres in bold type. Click theatre name for tickets.