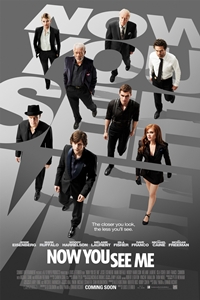 Opening Date:
May 31, 2013
Cast:
Mark Ruffalo, Jesse Eisenberg, Morgan Freeman, Woody Harrelson, Isla Fisher, Mélanie Laurent, Michael Caine, Dave Franco, Common, José Garcia
Director:
Louis Leterrier
MPAA Rating:
PG13 for language, some action and sexual content
Synopsis:
During their performances, the world's greatest illusionists known as "The Four Horsemen" pull off a series of daring heists against corrupt business leaders. The super-team of illusionists shower the stolen profits on their audiences while staying one step ahead of an elite FBI squad in a game of cat and mouse.
Now You See Me (PG13)
Click bold theatre name for showtimes and tickets.
Showtimes available three days prior to opening.