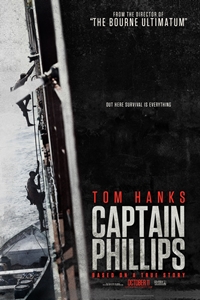 Release Date:
October 11, 2013
Cast:
Tom Hanks, Catherine Keener, Max Martini, Chris Mulkey, John Magaro
Director:
Paul Greengrass
MPAA Rating:
PG13 for sustained intense sequences of menace, some violence with bloody images, and for substance use
Synopsis:
The film focuses on the relationship between the Alabama's commanding officer, Captain Richard Phillips, and the Somali pirate captain, Muse, who takes him hostage. Phillips and Muse are set on an unstoppable collision course when Muse and his crew target Phillips' unarmed ship; in the ensuing standoff, 145 miles off the Somali coast, both men will find themselves at the mercy of forces beyond their control.
Captain Phillips (PG13)
PLAYING MARCH 8 AT:
Show times are available on this date for theatres in bold type. Click theatre name for tickets.