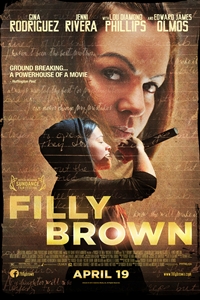 Release Date:
April 19, 2013
Cast:
Gina Rodriguez, Jenni Rivera, Emilio Rivera, Noel G., Kerry Norton
Director:
Youssef Delara, Michael D. Olmos
MPAA Rating:
R for language, some drug use and violence
Synopsis:
"Majo" is a young Latina street poet who is pursuing a record deal that will help her family financially. But making a deal will force her to turn away from the friends who have helped her get this far, so she finds herself facing some tough choices.
Filly Brown (R)
PLAYING MARCH 7 AT:
Show times are available on this date for theatres in bold type. Click theatre name for tickets.