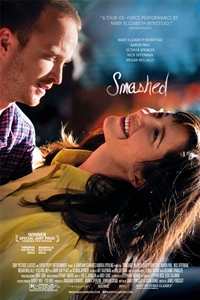 Opening Date:
October 12, 2012
Cast:
Mary Elizabeth Winstead, Aaron Paul, Octavia Spencer, Nick Offerman, Megan Mullally, Mary Kay Place, Kyle Gallner, Bree Turner, Mackenzie Davis, Patti Allison
MPAA Rating:
R for alcohol abuse, language, some sexual content and brief drug use
Synopsis:
Kate and Charlie like to have a good time. Their marriage thrives on a shared fondness for music, laughter . . . and getting smashed. When Kate's partying spirals into hard-core asocial behavior, compromising her job as an elementary schoolteacher, something's got to give. But change isn't exactly a cakewalk. Sobriety means she will have to confront the lies she's been spinning at work, her troubling relationship with her mother, and the nature of her bond with Charlie.
Smashed (R)
Click bold theatre name for showtimes and tickets.
Showtimes available three days prior to opening.