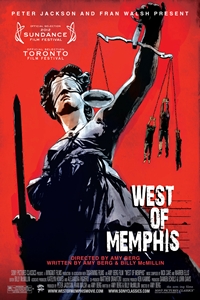 Release Date:
December 25, 2012
Cast:
Damien Wayne Echols, Jason Baldwin, Jessie Miskelly, Pam Hobbs, Lorris Davis
MPAA Rating:
R for disturbing violent content and some language
Synopsis:
The untold story behind an extraordinary and desperate fight to bring the truth to light; a fight to stop the State of Arkansas from killing an innocent man. Starting with a searing examination of the police investigation into the 1993 murders of three, eight year old boys Christopher Byers, Steven Branch and Michael Moore in the small town of West Memphis, Arkansas, the film goes on to uncover new evidence surrounding the arrest and conviction of the other three victims of this shocking crime - Damien Echols, Jason Baldwin and Jessie Misskelley. All three were teenagers when they became the target of the police investigation; all three went on to lose 18 years of their lives - imprisoned for crimes they did not commit.
West of Memphis (R)
PLAYING MARCH 10 AT:
Show times are available on this date for theatres in bold type. Click theatre name for tickets.