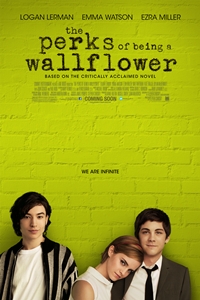 Release Date:
September 21, 2012
Cast:
Logan Lerman, Emma Watson, Ezra Miller, Mae Whitman, Kate Walsh
Director:
Stephen Chbosky
MPAA Rating:
PG13 for mature thematic material, drug and alcohol use, sexual content including references, and a fight - all involving teens
Synopsis:
A funny and touching coming-of-age story based on the beloved best-selling novel by Stephen Chbosky, THE PERKS OF BEING A WALLFLOWER is a modern classic that captures the dizzying highs and crushing lows of growing up. Starring Logan Lerman, Emma Watson and Ezra Miller, THE PERKS OF BEING A WALLFLOWER is a moving tale of love, loss, fear and hope‹and the unforgettable friends that help us through life.
The Perks of Being a Wallflower (PG13)
PLAYING MARCH 11 AT:
Show times are available on this date for theatres in bold type. Click theatre name for tickets.