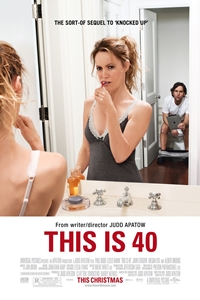 Opening Date:
December 21, 2012
Cast:
Leslie Mann, Paul Rudd, Megan Fox, Jason Segel, Chris O'Dowd, Melissa McCarthy, Albert Brooks, John Lithgow, Lena Dunham, Charlyne Yi
MPAA Rating:
R for sexual content, crude humor, pervasive language and some drug material
Synopsis:
An original comedy that expands upon the story of Pete and Debbie from the blockbuster hit Knocked Up as we see first-hand how they are dealing with their current state of life. After years of marriage, Pete lives in a house of all females: wife Debbie and their two daughters, eight-year-old Charlotte and 13-year-old Sadie. As he struggles to keep his record label afloat, he and Debbie must figure out how to forgive, forget and enjoy the rest of their lives...before they kill each other.
This Is 40 (R)
Click bold theatre name for showtimes and tickets.
Showtimes available three days prior to opening.