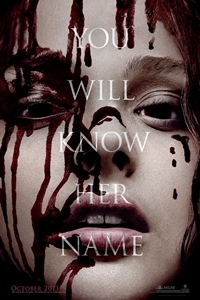 Opening Date:
October 18, 2013
Cast:
Chloe Grace Moretz, Julianne Moore, Judy Greer, Alex Russell, Gabriella Wilde, Portia Doubleday, Cynthia Preston, Max Topplin, Ansel Elgort, Kim Roberts
Director:
Kimberly Peirce
Genre:
Horror, Suspense/Thriller
MPAA Rating:
R for bloody violence, disturbing images, language and some sexual content
Synopsis:
A homely outcast high school girl with a religious zealot mom has long had telekinetic powers. When bullied by her peers she exhibits her powers more, and when a cruel trick plays out on prom night she unleashes her telekinetic wrath and destroys her school, her mother, and herself..
Carrie (R)
Click bold theatre name for showtimes and tickets.
Showtimes available three days prior to opening.