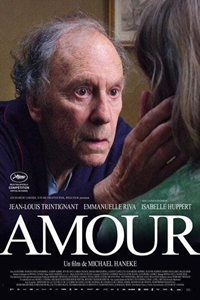 Opening Date:
December 19, 2012
Cast:
Jean-Louis Trintignant, Emmanuelle Riva, Isabelle Huppert, Michael Haneke
MPAA Rating:
PG13 for mature thematic material including a disturbing act, and for brief language
Synopsis:
Octogenarians Georges and Anne are retired music teachers whose daughter lives abroad with her family. When Anne suffers a stroke and is left paralyzed on one side of her body, the couple's abiding love for each other is put to the test.
Amour (PG13)
Click bold theatre name for showtimes and tickets.
Showtimes available three days prior to opening.