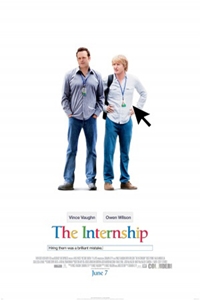 Opening Date:
June 7, 2013
Cast:
Vince Vaughn, Owen Wilson, Rose Byrne, Will Ferrell, John Goodman, Josh Gad, JoAnna Garcia Swisher, Jessica Szohr, Dylan O'Brien, Max Minghella
MPAA Rating:
PG13 for sexuality, some crude humor, partying and language
Synopsis:
Billy and Nick are salesmen whose careers have been torpedoed by the digital world. Trying to prove they are not obsolete, they defy the odds by talking their way into a coveted internship at Google, along with a battalion of brilliant college students. But, gaining entrance to this utopia is only half the battle. Now they must compete with a group of the nation's most elite, tech-savvy geniuses to prove that necessity really is the mother of re-invention.
The Internship (PG13)
Click bold theatre name for showtimes and tickets.
Showtimes available three days prior to opening.