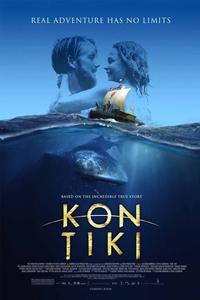 Release Date:
April 26, 2013
Cast:
Pål Sverre Hagen, Odd-Magnus Williamson, Tobias Santelmann, Anders Baasmo Christiansen, Jakob Oftebro
Director:
Joachim Rønning, Espen Sandberg
MPAA Rating:
PG13 for a disturbing violent sequence
Synopsis:
Norwegian explorer Thor Heyerdahl crossed the Pacific ocean in a balsa wood raft in 1947, together with five men, to prove that South Americans already back in pre-Columbian times could have crossed the sea and settle on Polynesian islands. After gathering financing for the trip with loans and donations, they set off on an epic 101 day-long journey across 8,000 kilometers, all while the world was watching. KON-TIKI tells about the origin of Heyerdahl's idea and the events surrounding the group's voyage.
Kon-Tiki (PG13)
PLAYING MARCH 12 AT:
Show times are available on this date for theatres in bold type. Click theatre name for tickets.