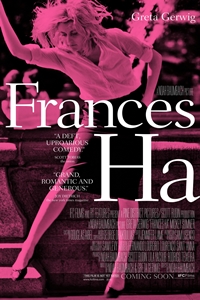 Release Date:
May 17, 2013
Cast:
Greta Gerwig, Adam Driver, Grace Gummer, Mickey Sumner, Patrick Heusinger
MPAA Rating:
R for sexual references and language
Synopsis:
Frances lives in New York, but she doesn't really have an apartment. Frances is an apprentice for a dance company, but she¹s not really a dancer. Frances has a best friend named Sophie, but they aren't really speaking anymore. Frances throws herself headlong into her dreams, even as their possible reality dwindles. Frances wants so much more than she has but lives her life with unaccountable joy and lightness.
Frances Ha (R)
PLAYING MARCH 11 AT:
Show times are available on this date for theatres in bold type. Click theatre name for tickets.