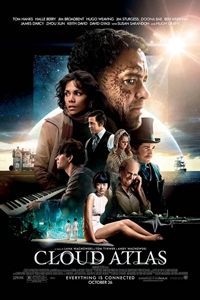 Release Date:
October 26, 2012
Cast:
Tom Hanks, Halle Berry, Jim Broadbent, Hugo Weaving, Jim Sturgess
Director:
Lana Wachowski, Tom Tykwer, Andy Wa
Genre:
Drama, SciFi/Fantasy
MPAA Rating:
R for violence, language, sexuality/nudity and some drug use
Synopsis:
The film explores how the actions and consequences of individual lives impact one another throughout the past, the present and the future. Action, mystery and romance weave dramatically through the story as one soul is shaped from a killer into a hero and a single act of kindness ripples across centuries to inspire a revolution in the distant future. Each member of the ensemble appears in multiple roles as the stories move through time.
Cloud Atlas: The IMAX Experience (R)
PLAYING MARCH 12 AT:
Show times are available on this date for theatres in bold type. Click theatre name for tickets.