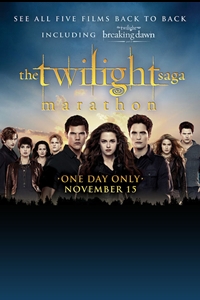 Release Date:
November 15, 2012
Cast:
Kristen Stewart, Robert Pattinson, Taylor Lautner
Director:
Genre:
SciFi/Fantasy, Action/Adventure, Romance
Synopsis:
Fans who purchase tickets for "The Twilight Saga" marathon will be treated to seeing Bella, Edward, Jacob and the entire cast again on the big screen starting with the first film in the series culminating with the arrival of "The Twilight Saga: Breaking Dawn - Part 2."
The Twilight Saga Marathon (PG13)
PLAYING MARCH 15 AT:
Show times are available on this date for theatres in bold type. Click theatre name for tickets.