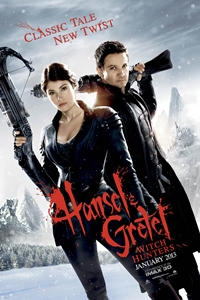 Release Date:
January 25, 2013
Cast:
Gemma Arterton, Jeremy Renner, Famke Janssen, Thomas Mann, Peter Stormare
Genre:
Action/Adventure, Comedy, Horror
MPAA Rating:
R for strong fantasy horror violence and gore, brief sexuality/nudity and language
Synopsis:
Catching up with Hansel and Gretel 15 years after their incident involving a gingerbread house, the siblings have evolved into bounty hunters who hunt witches.
Hansel & Gretel: Witch Hunters An IMAX 3D Experience (R)
PLAYING MARCH 10 AT:
Show times are available on this date for theatres in bold type. Click theatre name for tickets.