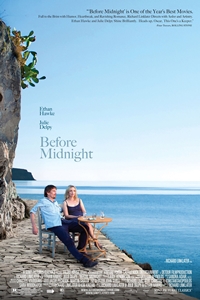 Opening Date:
May 24, 2013
Cast:
Ethan Hawke, Julie Delpy, Seamus Davey-Fitzpatrick, Ariane Labed, Athina Rachel Tsangari, Xenia Kalogeropoulou, Walter Lassally, Yannis Papadopoulos, Panos Koronis
Director:
Richard Linklater
MPAA Rating:
R for sexual content/nudity and language
Synopsis:
We meet Celine and Jesse nine years after their last rendezvous. Almost two decades have passed since their first encounter on a train bound for Vienna, and we now find them in their early forties in Greece. Before the clock strikes midnight, we will again become part of their story.
Before Midnight (R)
Click bold theatre name for showtimes and tickets.
Showtimes available three days prior to opening.