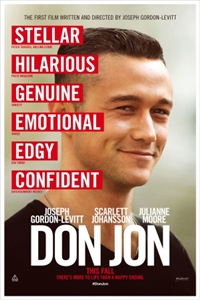 Opening Date:
September 27, 2013
Cast:
Joseph Gordon-Levitt, Scarlett Johansson, Julianne Moore, Brie Larson, Tony Danza, Rob Brown, Lindsey Broad, Italia Ricci, Antoinette Kalaj, Amanda Perez
Director:
Joseph Gordon-Levitt
MPAA Rating:
R for strong graphic sexual material and dialogue throughout, nudity, language and some drug use
Synopsis:
Jon Martello is a strong, handsome, good old fashioned guy. His buddies call him Don Jon due to his ability to "pull" a different woman every weekend, but even the finest fling doesn't compare to the bliss he finds alone in front of the computer watching pornography. Barbara Sugarman is a bright, beautiful, good old fashioned girl. Raised on romantic Hollywood movies, she's determined to find her Prince Charming and ride off into the sunset. Wrestling with good old fashioned expectations of the opposite sex, Jon and Barbara struggle against a media culture full of false fantasies to try and find true intimacy.
Don Jon (R)
Click bold theatre name for showtimes and tickets.
Showtimes available three days prior to opening.