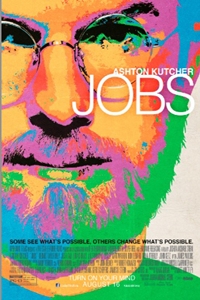 Opening Date:
August 16, 2013
Cast:
Ashton Kutcher, Dermot Mulroney, Josh Gad, Lukas Haas, J.K. Simmons, Matthew Modine, Amanda Crew, James Woods, Jeremy Shada, Lesley Ann Warren
Director:
Joshua Michael Stern
MPAA Rating:
PG13 for some drug content and brief strong language
Synopsis:
In 1976, college dropout Steve Jobs heralded a revolution within the confines of his parents' garage. Jobs, along with friend and technical wizard Steve Wozniak, unleashed the homebrew Apple 1 personal computer kit onto an unsuspecting public, producing 200 units by hand and shipping each one themselves. Apple Inc. was born, and the world would never be the same. Today hundreds of millions of users around the world remain tethered to the remarkable products that Jobs championed - his impact on the world of technology was undoubtedly colossal, but his effect on our culture was simply immeasurable.

Jobs (PG13)
Click bold theatre name for showtimes and tickets.
Showtimes available three days prior to opening.