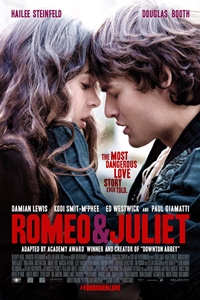 Opening Date:
October 11, 2013
Cast:
Hailee Steinfeld, Ed Westwick, Douglas Booth, Paul Giamatti, Christian Cooke, Tom Wisdom, Lesley Manville, Kodi Smith Mc Phee, Damian Lewis
MPAA Rating:
PG13 for some violence and thematic elements
Synopsis:
The ultimate romantic story, traditionally told in a renaissance setting, Romeo & Juliet shows us love at its purest and tragedy at its most fateful. Having been decades since its last representation through film, Romeo & Juliet offers a new generation the opportunity to savor and cherish literature's most enduring romance.

In the fair city of Verona, Romeo and Juliet, children of the feuding Montague and Capulet families, meet at a feast and fall deeply in love. Despite the sworn contempt their families hold for each another, they steal away and are secretly wed. It is not long, however, before a chain of fateful events changes the lives of both families forever.
Romeo and Juliet (2013) (PG13)
Click bold theatre name for showtimes and tickets.
Showtimes available three days prior to opening.