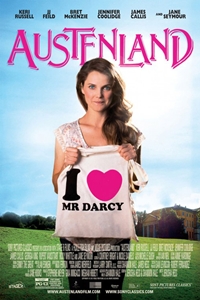 Release Date:
August 16, 2013
Cast:
Keri Russell, JJ Feild, Jennifer Coolidge, Bret McKenzie, Georgia King
MPAA Rating:
PG13 for some suggestive content and innuendo
Synopsis:
A romantic comedy about 30-something, single Jane Hayes, a seemingly normal young woman with a secret: her obsession with all things Jane Austen. But when she decides to spend her life savings on a trip to an English resort catering to Austen-crazed women, Jane's fantasies of meeting the perfect Regency-era gentleman suddenly become more real than she ever could have imagined.
Austenland (PG13)
PLAYING MARCH 10 AT:
Show times are available on this date for theatres in bold type. Click theatre name for tickets.