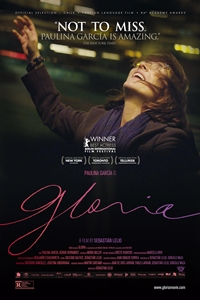 Opening Date:
January 24, 2014
Cast:
Paulina García, Sergio Hernández, Coca Guazzini, Antonia Santa María
Director:
Sebastián Lelio
MPAA Rating:
R for sexual content, some graphic nudity, drug use and language
Synopsis:
Gloria is a "woman of a certain age" but still feels young. Though lonely, she makes the best of her situation and fills her nights seeking love at social dance clubs for single adults. Her fragile happiness changes the day she meets Rodolfo. Their intense passion, to which Gloria gives her all, leaves her vacillating between hope and despair -- until she uncovers a new strength and realizes that, in her golden years, she can shine brighter than ever.

Gloria (2014) (R)
Click bold theatre name for showtimes and tickets.
Showtimes available three days prior to opening.