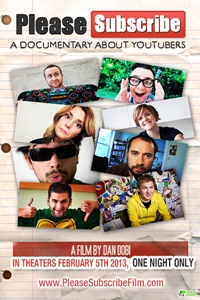 Opening Date:
February 5, 2013
Cast:
Hannah Hart, Will Hyde, Joe Penna, Adam Montoya, Mitchell Davis, Craig Benzine, Dan Brown, Grace Helbig
Synopsis:
Please Subscribe is a documentary that explains the phenomenon of some of the most influential and unique content creators raising the bar on Youtube and for online media in general. Through a series of intimate narrative vignettes, the film explores the different journeys taken by some of the medium's top creators to get where they are today. The film focuses on one main question that is "What makes a YouTuber?" Ask anyone in the community and they will each provide a different answer. No one thing makes a YouTuber, but rather it's the journey these creators have taken to pave their own unique path.

Please Subscribe: A Documentary About YouTubers (PG13)
Click bold theatre name for showtimes and tickets.
Showtimes available three days prior to opening.