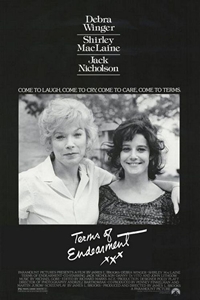 Opening Date:
December 9, 1983
Cast:
Shirley MacLaine, Debra Winger, Jack Nicholson, Danny DeVito, Jeff Daniels, John Lithgow, Lisa Hart Carroll, Huckleberry Fox, Troy Bishop, Shane Serwin
Director:
James L. Brooks
Synopsis:
An account of the complex and difficult relationship between a mother and daughter as they face life's challenges over three decades.
Terms of Endearment (PG)
Click bold theatre name for showtimes and tickets.
Showtimes available three days prior to opening.