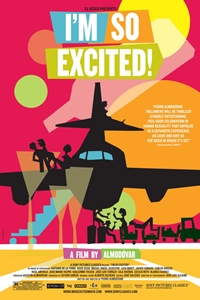 Release Date:
June 28, 2013
Cast:
Penélope Cruz, Antonio Banderas, Blanca Suárez, Lola Dueñas, Javier Cámara
Director:
Pedro Almodóvar
MPAA Rating:
R for strong sexual content including crude references, and drug use
Synopsis:
When a group of passengers aboard a plane fear for their lives, they reveal their deepest, darkest secrets.
I'm So Excited (Los amantes pasajeros) (R)
PLAYING MARCH 7 AT:
Show times are available on this date for theatres in bold type. Click theatre name for tickets.