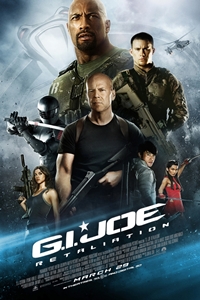 Release Date:
March 28, 2013
Cast:
Bruce Willis, Channing Tatum, Dwayne Johnson, Adrianne Palicki, Ray Stevenson
Genre:
Action/Adventure, SciFi/Fantasy
MPAA Rating:
PG13 for intese sequences of combat violence and martial arts action throughout, and for brief sensuality and language
Synopsis:
Framed for a crime they did not commit, the G.I. Joes must not only fight Cobra but also vindicate themselves to a government that condemned them.
G.I. Joe: Retaliation An IMAX 3D Experience (PG13)
PLAYING MARCH 12 AT:
Show times are available on this date for theatres in bold type. Click theatre name for tickets.