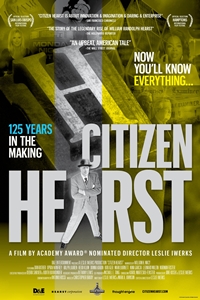 Opening Date:
October 5, 2012
Cast:
William H. Macy, Frank A. Bennack, Jr., Will Hearst III, Leonard Maltin, Phil Bronstein, Gil Maurer, Frank Caruso, Dan Rather, George Hearst III, Duncan Edwards
Synopsis:
A look at the 125-year history of the Hearst media empire, from William Randolph Hearst's pioneering and controversial days of headline-grabbing newspapers and yellow journalism to today's successful and cultureshaping news, magazine, television and digital brands around the world.
Citizen Hearst (NR)
Click bold theatre name for showtimes and tickets.
Showtimes available three days prior to opening.