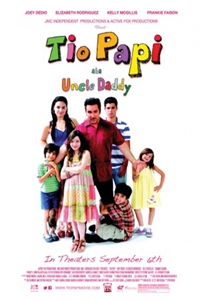 Opening Date:
September 6, 2013
Cast:
Joey Dedio, Kelly McGillis, Frankie Faison, Elizabeth Rodriguez, Gabriella Fanuele, David Castro, Fatima Ptacek, Sebastian Martinez, Nicolette Pierini
MPAA Rating:
PG for thematic elements, mild rude humor and brief language
Synopsis:
Wild bachelor Ray Ray Dominguez dreams of nothing more than a carefree lifeof indulgence in Miami. His plans are abruptly changed when he becomes the legal guardian of his sister's six children (ages six-sixteen) as a new "Tio-Papi." His lifestyle clashes humorously with the interests of his nieces and nephews in this charming comedy about life's unexpected surprises.
Tio Papi (PG)
Click bold theatre name for showtimes and tickets.
Showtimes available three days prior to opening.