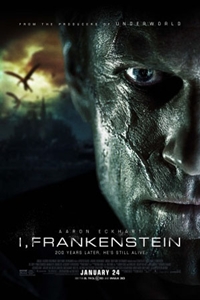 Release Date:
January 24, 2014
Cast:
Aaron Eckhart, Bill Nighy, Yvonne Strahovski, Aden Young, Miranda Otto
Genre:
Horror, Suspense/Thriller
MPAA Rating:
PG13 for sequences of intense fantasy action and violence throughout
Synopsis:
Two hundred years after his shocking creation, Dr. Frankenstein's creature, Adam, still walks the earth. But when he finds himself in the middle of a war over the fate of humanity, Adam discovers he holds the key that could destroy humankind.
I, Frankenstein 3D (PG13)
PLAYING MARCH 11 AT:
Show times are available on this date for theatres in bold type. Click theatre name for tickets.