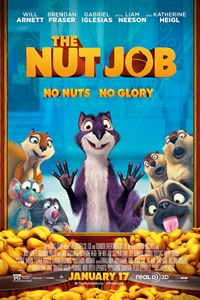 Opening Date:
January 17, 2014
Cast:
Will Arnett, Katherine Heigl, Brendan Fraser, Liam Neeson, Stephen Lang, Sarah Gadon, Maya Rudolph
Director:
Peter Lepeniotis
MPAA Rating:
PG for mild action and rude humor
Synopsis:
This is an action-packed comedy in fictional Oakton that follows the travails of Surly, a mischievous squirrel, and his rat friend Buddy, who plan a nut store heist of outrageous proportions and unwittingly find themselves embroiled in a much more complicated and hilarious adventure.
The Nut Job in 3D (PG)
Click bold theatre name for showtimes and tickets.
Showtimes available three days prior to opening.