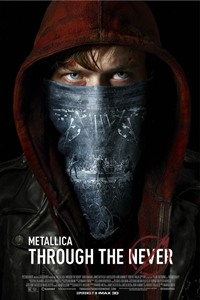 Release Date:
September 27, 2013
Cast:
James Hetfield, Lars Ulrich, Kirk Hammett, Robert Trujullo, Dane DeHaan
MPAA Rating:
R for some violent content and language
Synopsis:
Starring Metallica, a cast of thousands of their fans and breakout star Dane DeHaan, Metallica Through the Never is written and directed by award-winning filmmaker Nimrod Antal and produced by former IMAX film producer Charlotte Huggins. The film marries groundbreaking footage and editing techniques with a compelling narrative, in which a band crew member is sent out on a mission during Metallica's roaring live set in front of a sold-out arena. While on this mission, he unexpectedly has his life turned completely upside down.
Metallica Through the Never: An IMAX 3D Experience (R)
PLAYING MARCH 11 AT:
Show times are available on this date for theatres in bold type. Click theatre name for tickets.