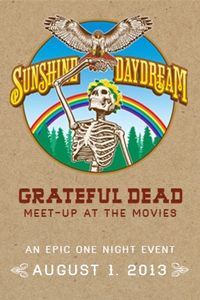 Cast:
Genre:
Documentary, Concert
Synopsis:
On August 27, 1972, fresh off their now-legendary European tour, the Grateful Dead traveled to Veneta, OR and reunited with the Merry Pranksters for a common cause - to throw a benefit concert for the Kesey family's Springfield Creamery. A stage was erected under the hot Oregon sun at the Olde Renaissance Fairgrounds, tickets were printed on the fronts of the Creamery's yogurt labels, and the rest is history...
Greatfull Dead - Sunshine Daydream (NR)
Click bold theatre name for showtimes and tickets.
Showtimes available three days prior to opening.