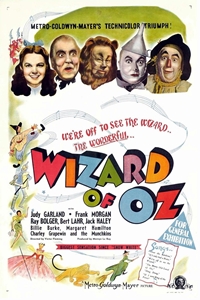 Release Date:
September 20, 2013
Cast:
Judy Garland, Frank Morgan, Ray Bolger, Jack Haley, Bert Lahr
MPAA Rating:
PG for some scary moments
Synopsis:
The magic of MGM's colorful, unique fantasy has melted hearts for over seven decades with its indelible melodies and timeless themes. To celebrate the beloved movie's 75th anniversary, Warner Bros. Home Entertainment has brought The Wizard of Oz into the present with a new kind of magic: stunning Blu-ray 3D.
The Wizard of Oz: An IMAX 3D Experience (PG)
PLAYING MARCH 10 AT:
Show times are available on this date for theatres in bold type. Click theatre name for tickets.