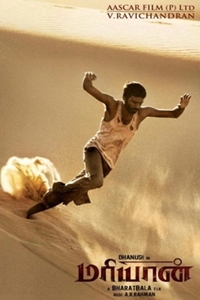 Release Date:
July 19, 2013
Cast:
Dhanush, Parvathi Menon, Appu Kutty, Salim Kumar, Uma Riyaz Khan
Genre:
Drama, Suspense/Thriller
Synopsis:
The film revolves around a story of human survival adapted from a newspaper article of a real-life crisis event, when three oil workers from India were kidnapped and taken hostage in Sudan by mercenaries. The film is an emotional journey of a common man to an unknown place with the hope to come home and lead a better life.
Mariyan (NR)
PLAYING MARCH 12 AT:
Show times are available on this date for theatres in bold type. Click theatre name for tickets.