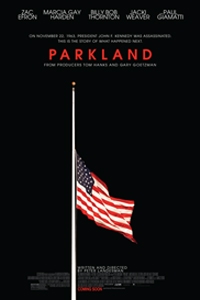 Opening Date:
October 4, 2013
Cast:
Zac Efron, Tom Welling, James Badge Dale, Paul Giamatti, Jackie Earle Haley, Ron Livingston, Colin Hanks, Billy Bob Thornton, Mark Duplass, Austin Nichols
Director:
Peter Landesman
MPAA Rating:
PG13 for bloody sequences of ER trauma procedures, some violent images and language, and smoking throughout
Synopsis:
Recounting the chaotic events that occurred in Dallas, Texas on November 22, 1963, the film weaves together the perspectives of a handful of ordinary individuals suddenly thrust into extraordinary circumstances: the young doctors and nurses at Parkland Hospital; Dallas' chief of the Secret Service; an unwitting cameraman who captured what became the most watched and examined film in history; the FBI agents who nearly had the gunman within their grasp; the brother of Lee Harvey Oswald, left to deal with his shattered family; and JFK's security team, witnesses to both the president's death and Vice President Lyndon Johnson's rise to power over a nation whose innocence was forever altered.
Parkland (PG13)
Click bold theatre name for showtimes and tickets.
Showtimes available three days prior to opening.