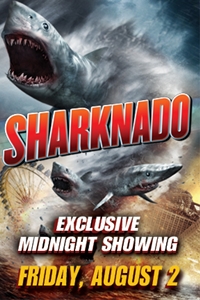 Opening Date:
August 3, 2013
Cast:
Ian Ziering, Tara Reid, Cassie Scerbo, Heather Jocelyne Blair, Julie McCullough, Israel Sáez de Miguel, Tiffany Cole, Trish Coren, Michael Tim, Sumiko Braun
Director:
Anthony C. Ferrante
Genre:
Horror, SciFi/Fantasy, Suspense/Thriller
Synopsis:
NCM Fathom Events and The Asylum are proud to bring the "made-for-TV guilty pleasure", Sharknado, to select cinemas nationwide for an exclusive midnight showing! In addition to the big screen presentation of Sharknado, this epic one-night event will also feature never-before-seen footage including a behind-the-scenes featurette and a gag reel!
Sharknado (NR)
Click bold theatre name for showtimes and tickets.
Showtimes available three days prior to opening.