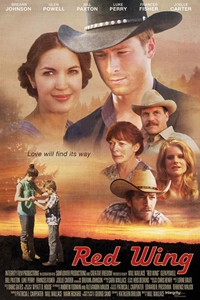 Opening Date:
October 4, 2013
Cast:
Bill Paxton, Frances Fisher, Luke Perry, Glen Powell, Joelle Carter, Will Wallace, Jaime Gallagher
MPAA Rating:
PG13 for a scene of sensuality/suggestive images
Synopsis:
"Red Wing" follows the troubled journey of an orphan boy into manhood. Despite all odds, when confronted with the ill-will of others, he maintains honor and integrity. We learn that, if we let it, love takes over and finds its way. A socially thought-provoking and stirring love story based on the French novella "Francois le Champ" by George Sand. It is set in a small Texas town in present day, and reminds us of how love can be found in the most unusual and innocent places.
Red Wing (PG13)
Click bold theatre name for showtimes and tickets.
Showtimes available three days prior to opening.