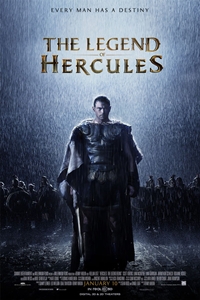 Release Date:
January 10, 2014
Cast:
Kellan Lutz, Scott Adkins, Liam McIntyre, Liam Garrigan, Johnathon Schaech
MPAA Rating:
PG13 for sequences of intense combat action and violence, and for some sensuality
Synopsis:
In this epic origin story, the mythical Greek hero Hercules - the son of Zeus, a half-god, half-man is blessed with extraordinary strength. Betrayed by his stepfather, the King, and exiled and sold into slavery because of a forbidden love, Hercules must use his formidable powers to fight his way back to his rightful kingdom. Through harrowing battles and gladiator-arena death matches, Hercules embarks on a legendary odyssey to overthrow the King and restore peace to the land.
The Legend of Hercules 3D (PG13)
PLAYING MARCH 11 AT:
Show times are available on this date for theatres in bold type. Click theatre name for tickets.