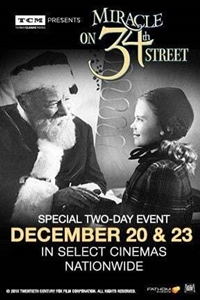 Cast:
Maureen O'Hara, John Payne, Edmund Gwenn, Gene Lockhart, Natalie Wood
Synopsis:
When her toy department Santa shows up drunk for work, Macy's supervisor Doris Walker hires Kris - an elderly gentleman with a white beard who looks like Santa Claus - as her emergency replacement. She comes to regret her choice, however, when she learns that Kris believes that he really is Santa. Kris works not only to restore Doris' belief in Santa Claus but make her young daughter's wishes come true, all while trying to prove his identity in a court of law.
Miracle on 34th Street (1947) (NR)
Click bold theatre name for showtimes and tickets.
Showtimes available three days prior to opening.