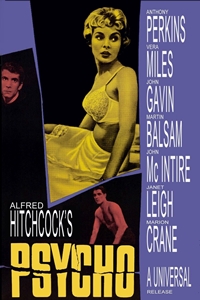 Release Date:
June 16, 1960
Cast:
Anthony Perkins, Janet Leigh, Vera Miles, Martin Balsam
Director:
Alfred Hitchcock
Genre:
Suspense/Thriller, Horror
Synopsis:
When a woman is discovered as missing--last seen at the infamous Bates Motel in the desert--her sister and boyfriend visit the place only to find it run by a voyeuristic, taxidermist loner whose possessed by his dead mother and dresses himself up like her, adopting her personality.
Psycho (R)
PLAYING MARCH 12 AT:
Show times are available on this date for theatres in bold type. Click theatre name for tickets.