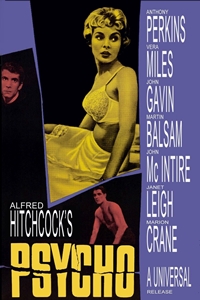 Opening Date:
June 16, 1960
Cast:
Anthony Perkins, Janet Leigh, Vera Miles, Martin Balsam
Director:
Alfred Hitchcock
Genre:
Suspense/Thriller, Horror
Synopsis:
When a woman is discovered as missing--last seen at the infamous Bates Motel in the desert--her sister and boyfriend visit the place only to find it run by a voyeuristic, taxidermist loner whose possessed by his dead mother and dresses himself up like her, adopting her personality.
Psycho (R)
Click bold theatre name for showtimes and tickets.
Showtimes available three days prior to opening.