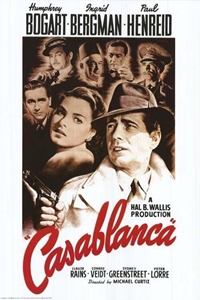 Release Date:
November 26, 1942
Cast:
Humphery Bogart, Ingrid Bergman, Paul Henried, Claude Rains, Conrad Veidt
Synopsis:
Fiftieth anniversary print (1992) of classic World War II story, starring Humphrey Bogart, Ingrid Bergman, Paul Henreid, Claude Rains et al, looks terrific in glorious black and white. A half century later, it still is a sublimely romantic, soul-satisfying experience.
Casablanca (1942) (PG)
PLAYING MARCH 8 AT:
Show times are available on this date for theatres in bold type. Click theatre name for tickets.